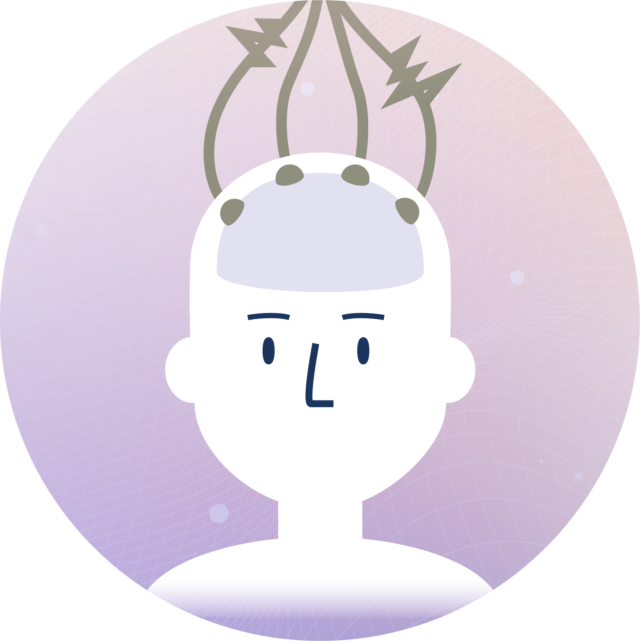 Overview
In IoB Core Technology, we are working on the development of invasive brain-machine interface (BMI) technology with the goal of commercializing BMI in humans. The realization of BMI requires a bi-directional interface between the brain and external devices. This interface can be divided into two types: invasive (a method that damages the body, such as drilling holes in the skull) and non-invasive (a method that does not directly damage the body, e.g., attaching electrodes on the scalp). Although the invasive type has the disadvantage of causing damage to the body, it has the great advantage of being able to handle richer information with a smaller time lag compared to the non-invasive type.
Therefore, we believe that the development of invasive BMI technology is essential for the realization of this project. However, at present, there is no standard technology or off-the-shelf products necessary for the realization of invasive BMI, and social acceptance is insufficient due to ethical concerns. The goal of this R&D item is to develop this technology to a level where it can be fully utilized in human society, including clinical applications, by conducting multifaceted functional evaluations of invasive BMI technology.
Member
Specially Appointed Associate Professor
Institute of Innovative Research, Tokyo Institute of Technology

With this research project, we aim to develop the communication system which transfers our intentions to cybernetic avatars. To achieve this goal, we will collect data from a variety of sources, including invasive, non-invasive, and non-contact methods. Then, AI will be applied to read intentions from the data. Through this approach, we seek an appropriate level of invasiveness in accordance with the purpose of each decoding content. We will provide IoB core technology to create cybernetic avatars with brain-machine interfaces (BMI-CA).

Project Leader
Neural Prosthetics Project, Tokyo Metropolitan Institute of Medical Science

In this research project, we will develop an artificial neural connection system via AI-assisted BMI to restore sensorimotor function and affective function after damage in the central nervous system. We will develop the artificial neural connection system that will enable severely paralyzed patients to control and feel their own body and mind.

YANAGISAWA Takufumi

,

M.D.-Ph.D.

Professor
Institute for Advanced Co-Creation Studies, Osaka University

In this study, we will develop a Brain-Machine Interface (BMI) using intracranial EEG to support severely paralyzed patients. Specifically, we will develop novel decoding techniques to extract various information from intracranial EEG to realize a clinically applicable BMI that will support the communication capability and improve the quality of life of patients. In particular, deep learning techniques will be applied for brain decoding. We will make invasive BMI a safe and practical technique to support clinical needs.

Joan and Sanford I. Weill Chair of the Department of Neurological Surgery
Jeanne Robertson Distinguished Professor
UCSF Weill Institute for Neurosciences
University of California, San Francisco (UCSF)
Co-Director of the UC Berkeley-UCSF Center for Neural Engineering and Prostheses
Chan Zuckerberg Biohub Investigator

In this research project, we will evaluate the use of electrocorticography (ECoG) as a brain computer interface (BCI) modality to enable real-time streaming of facial-avatar control and speech synthesis. Specifically, we will use high-density ECoG electrodes implanted onto the brain surface to record neural activity of attempted speech and movements. We will also decode speech and facial movements to create avatars that can be controlled using brain signals. BCIs for avatar applications represent a powerful new frontier in the development of interactive digital technologies with the potential to revolutionize the way we interact, allowing for more immersive and naturalistic experiences.